I don't really have much to update. I just wanted to see if I can figure out how to put pics in my posts, so I'm going to try to stick my pregnancy test pics in here. Let's see...
This is the first one I took. It's from the Dollar Tree and I didn't totally trust it, lol. The line is really, really light (if you can even see it on here). I barely can.

And this one I went and bought at Walmart and took the same afternoon. It came up positive right away! It's blurry, but you can see it!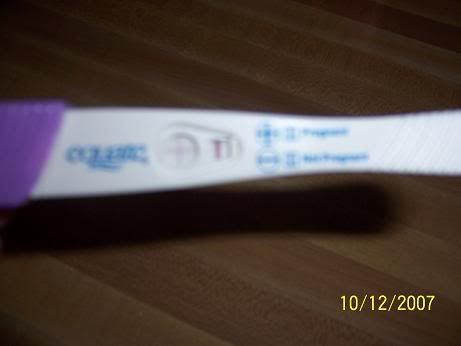 I'm at the least 6 weeks 1 day today...I'm pretty sure that's how far along I am. So I've officially made it past the point where I started spotting when I miscarried. And I still feel pregnant! In fact, I think morning sickness is kicking in. Certain foods (even just thinking about them) are starting to turn my stomach. I was cleaning out the fridge this morning and almost hurled and there wasn't even anything science experiment worthy in there. LOL. I'm welcoming it, though, because it's reassuring. I think I'll probably get my first ultrasound November 19th. I can't wait! I've also been thinking about how exciting it will be to find out the sex. I am going to be super excited EITHER way : ). So that's awesome. I know Doug is really hoping for another boy, though. It *would be easier. But I will be thrilled with a girl, too. (Our bank account might not be, though...hehehe. I just LOVE all the cute baby girl clothes.) My nerves are still getting the best of me at times, but I'm trying not to worry too much since it won't help anyway!
On to non-pg related news, if anyone is interested. Tomorrow is Halloween and also trick-or-treat night. Ryan is going as Elmo. This is the first year that he's really excited about going and understands. He's very excited about getting candy, lol. My mother-in-law and I took him and my niece and nephew trick-or-treating at the mall last week, but it was super crowded and not very fun. The weather has cooled down here lately, but tomorrow's supposed to be the warmest day of the week (they're saying 60 degrees around T or T time)......imagine that! The weather actually cooperating, lol.
Oh well, this is getting pretty long. I sure typed a lot for not having much to update ; ).