Today I went down to the NICU with my mother-in-law and Doug's middle brother and his wife. Brooke is still doing the same (good thing). She was on 21% O2 when we were there. Awesome : ). She was sleeping most of the time, but she moves around a lot. I didn't bother her too much, but I did get some pics.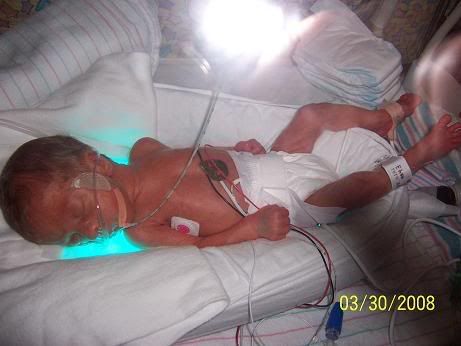 All stretched out, she looks SO long!
There's my hand for size comparison. With nothing to compare her to, it's hard to tell how small she really is (but much bigger than Zachary and Ryan were)!
Her little hands are SO cute.
I finally caught a yawn on camera!
Eyes half open.
The doctor came over while we were there to see if we had any questions. He said she's doing really well and there's nothing that concerns them at this point. I REALLY hope it stays that way, but I know she's bound to have some hurdles. I'll prepare myself for that and if it never happens then I'll just consider her and us extremely lucky!
Someone asked how Ryan has been doing with all of this. Very well!! While I was in the hospital he was shuffled around between my parents and my Aunt Kathy, mostly. Towards the end of my stay, he was also with Doug's oldest brother and family and my in-laws. He didn't seem to mind it at all and actually today he was asking to go "bye-bye". LOL. He was brought to the hospital a few times to see me, but he was too worried about the elevator and vending machines to pay too much attention to me ; ). Thursday, Ryan saw Brooke for the first time. He was SO excited. He was really, really fascinated by her and when I put my hand in the isolette to touch her, he wanted his hand in there, too. So I helped him gently touch her head and then I put his finger in her hand and she squeezed it. He just stood there looking at her in awe. It was soo sweet :*). The pictures are on my mother-in-law's camera, so I'll have to get them from her and post them. Ryan understands he can't touch my belly or sit on my lap, but that doesn't stop him from asking to get up about 10 times a day, lol. I feel bad because I can't just pick him up and cuddle with him. I can't wait until I'm fully healed. He's doing pretty well with it, though. He also knows that Brooke is with the "baby doctor" and in her bed and she'll come home when she's bigger. I have a feeling he's going to be very interested in her and we're going to have to watch him like a hawk so he's not trying to pick her up or anything like that.
I'm feeling pretty good, physically....a little better each day. I did notice today there is a little bit of yellow drainage from my incision and I called about it and they told me to keep any eye on it. Right now there are no other alarming signs/symptoms, so I really hope it's nothing. I recovered with no problems from my last 2 sections and I'm hoping I can be that lucky a 3rd time. Emotionally, I have my ups and downs. Most of the time I feel pretty normal. Every now and then I get a real deep sadness/depression that comes over me. I think it's just from reliving the past 2 NICU experiences...it's hard not to. Feelings just come back. I'm pumping breast milk for Brooke because it's the absolute best thing I can do for her right now. I HATE pumping. The first 2 days were really bad. While the pump was going, it just made me feel like jumping off a bridge...I would get *that depressed. Last night and today haven't been as bad. The first 2 minutes or so are the worst and then it pretty much levels off. It also helps that I'm finally getting almost 2 oz. each time (vs. just drops). I'm hoping to be able to eventually breastfeed her. I pumped for Zachary and Ryan (10 weeks with him), but this will be my first time nursing.
Well, I guess that's about all for now! : ) I still need to get her birth story typed out!

P.S. I'm going to leave my little Widget ticker thing up over there on the side. Even though she's not in my belly anymore, that still shows her gestation (and they'll still go by that for her age). We did find out that 35 weeks gestation is the earliest she can go home and that's IF she's doing everything she's "supposed" to be doing by then!