Well, here's the 1st belly picture for this pregnancy! It was taken Monday night (hence why I'm in my jammies, lol) when I was 10 weeks 2 days.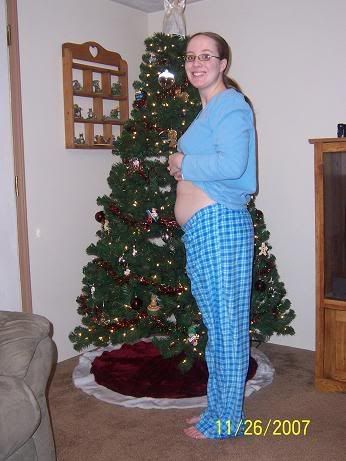 That little pouch has been there since I had Zachary, but it's definitely popped a little bit in the last week. I thought I'd gained another pound (for a total gain of 2, so far), but I'm still fluctuating day to day, so I've only gained 1lb. so far. I've been wearing maternity jeans vs. my regular jeans b/c they are SO much more comfy. I have a couple pair that have just the skinny elastic band around the waist and a longer shirt covers it. Still feeling about the same, but now the nausea is really only hitting around dinner time. The past couple of nights I haven't been able to finish my dinner.

I've decided we definitely need to know if this baby is a girl or boy, if for no other reason than to know if we NEED to pick a girl's name. If we don't, then I'm not struggling through it for nothing. LOL. Doug hasn't liked ANY name I've thrown out there so far, except Megan, which we had picked when I was pregnant with Zachary, and I'm not crazy about it anymore. Here are the names he's nixed (first 4 are my absolute favorites and some of them *I don't even particularly like, I just threw them in there, lol):

Olivia
Lauren
Audrey
Lily
Briana
Josselyn
Avery
Addison
Marissa
Alyssa
Natalie
Julie
Ella
Alexandra
Ava
Joella
Rachael
Miranda
Kara
Nicole
Erica
Madelyn

I'm wondering if part of the "problem" is he's really hoping for another boy and is in denial that it *could be a girl, lol. So we will definitely be finding out by u/s what the sex of the baby is, for our sanity! I think I'll stop discussing names until then. I think we've pretty much narrowed a boy down to Ethan or Connor, though. Doug is afraid naming him Ethan would confuse Ryan b/c he rides the van and goes to school with a little boy named Ethan, but I think Ryan will "get it". I also really like the name Mason, but Doug doesn't like that one.

My next appointment is 2 weeks from today! I'll be getting the Ultra-Screen (1st trimester Down Syndrome screening). I can't wait for another u/s : ). But that also means my cerclage is only a little over 2 weeks away. EEEEK! And then the 17p injections a few weeks after that.